The COVID-19 pandemic has seen a significant decrease in the use of commercial buildings. As we transition into the 'new normal', it is crucial occupants feel safe returning to their workplaces, and demonstrating the risk of COVID is being managed effectively will contribute significantly to this.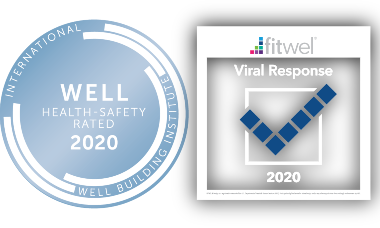 International wellbeing certification schemes WELL and Fitwel have both released standalone modules to assist with this and demonstrate compliance with best-practice guidelines. These third-party certifications can demonstrate to your occupiers that your COVID-19 response has been reviewed against an internationally recognised standard, thus instilling more confidence in your tenants to return.
The WELL Health Safety Rating (HSR)
The WELL Health-Safety Rating includes 20 features across the following core areas:
Cleaning and sanitisation procedures
Emergency preparedness programmes
Health service resources
Air and water quality management
Stakeholder engagement communication
Innovation
Following a documentation review, a minimum of 15 features must be met in order to achieve the Health-Safety Rating certification.
The Fitwel Viral Response Module
The Fitwel Viral Response Module is similar to the WELL Health-Safety Rating with features across three core areas:
Enhance indoor environments
Encourage behavioural change
Building occupant trust
Unlike WELL, Fitwel includes 'minimum requirements' which are necessary to achieve certification, with additional 'dependent strategies'. These strategies build on the minimum requirements and come with additional credit points; allowing users to achieve the higher level of certification of a Distinction.
What Can Focus FM Do For You?
We can assist in the implementation of either of these third party certifications at your properties from start to finish. This covers the whole submission process, including reviewing and preparing documentation and procedures ahead of submission. We have in-house expertise including a Fitwel Ambassador to advise on their Viral Response Module and a WELL AP consultant available to assist with the WELL HSR option, where an additional credit point is available for utilising a WELL AP as part of the submission.
Alternatively, we can provide a consultancy service based on the guidance offered in these modules, as well as additional government and industry best practice guidance, giving a more focussed and tailored service focusing on key aspects which enhance your properties.
Please do get in touch if you'd like further information or advice.
020 3077 1930 | bureau@focus-fm.co.uk